Most auto repair shops are accustomed to performing lots of routine maintenance on vehicles like brake repairs and oil changes. But when it comes to transmission repair, many shops are hesitant, unwilling or simply unable to perform services on the most complicated system in your vehicle. This being the case, how can you be sure that your vehicle is actually being diagnosed properly? In other words, how can they determine if you have a transmission related issue if they do not have the knowledge and experience working on transmissions?
At AAMCO Pearl River, NY, we know that today's vehicles are a complex combination of computers, electronics, mechanical and hydraulic parts controlling all the systems in your vehicle which work together and affect how your transmission performs.
If your vehicle is experiencing a problem with any one of these related systems, it can cause symptoms which may feel like your transmission is malfunctioning, even if the problem is not with your transmission at all. AAMCO Pearl River, NY's expert transmission technicians may find that only a repair or a computer reprogramming is deemed necessary and NOT a major rebuild or replacement of your vehicle's transmission.
Price is important, but an honest auto repair shop with trained, expert transmission technicians will always be your best value. Call AAMCO Pearl River, NY today to schedule a FREE transmission check and computer scan of your vehicle's transmission. If you find that you are unable to safely drive your vehicle and need help getting it to our center, we can also arrange to have your vehicle towed to us for FREE with any major service.
For over 50 years, AAMCO has been the trusted name for transmission repairs. At AAMCO Pearl River, NY we will make you two promises: We'll only charge for what you need and we'll always be here to stand behind our work, with the best warranties in the industry. Call us today for a convenient appointment and let us solve your vehicle's problems.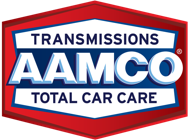 Locally owned and operated by Carlo Rogoff
56 Reviews
OUR ADDRESS
40 W Washington Ave, Pearl River, NY 10965
View Map
hours
Monday - Friday | 08:00 AM - 05:00 PM
Saturday | 08:00 AM - 01:00 PM
SCHEDULE APPOINTMENT
FREE
Transmission Multi-Point Check
An $85 value - free with this coupon